Ostrander is a growing area in central Ohio with a population of 695, up from 410 in 2000.  The village was founded and platted in 1852 as a direct result of the CCC & I Railroad running through the area from Springfield to Delaware and eventually on to Mansfield. The original village was laid out by I.C. Buck into 104 lots and thus named Ostrander, after Shelemiah R. Ostrander, a civil engineer for the railroad.  See the original plat here. The village was officially incorporated on May 18, 1875.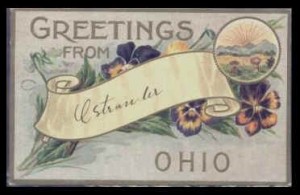 In 1925 a fire started in a restaurant on Main Street in the main square of town and spread through the entire block, completely destroying it except for the livery stable on the southwest corner. The block was partially rebuilt over the next couple years and looked much as it does now.  In 1948, the landscape of the village was altered significantly when the Ostrander Farmers Exchange erected the towering concrete silo for grain storage and in 1954, a new town office and fire house were built. A new library was built in 1990 and a new fire house servicing Scioto Township and Ostrander was erected in 2003.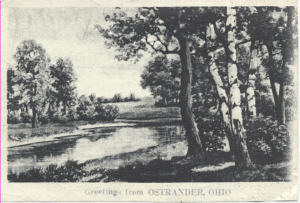 The railroad, which helped originally form the village, stopped running in 1971 after the rail beds deteriorated to a point where they could no longer safely be used. Most of the track has since been removed in the village and the only remaining evidence of the original railroad is the old bridge over Blues Creek.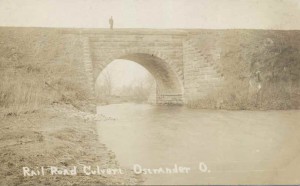 Ostrander remains a quiet village of around 700 residents and hosts some of the best Fourth of July and Halloween celebrations in central Ohio as well as an annual car show. It is sparked by an active citizenry who attend the village's three churches and belong to such organizations as the Ostrander Civic Association and the Scioto-Ostrander Fire Department. The recent population increase is partly a result of a new development and village annexation in 2005, known as the Meadows of Mill Creek.